Who We Are?
Jamia Ali Hasan Ahle Sunnat, Utraula, District Balrampur U.P. Organised a Group of Ahle Sunnat-wa-Jamat Whose foundation was laid on 24th February 2005 (14th Muharram-ul-Haram 1426 Hijri) by Son of Huzoor Shaikh-e-Aazam Qaaide Millat Hazrat Allama Maulana Al-haj Al-shah Abul Mukhtar Sayyed Muhammad Mahmood Ashraf Ashrafi Jilani honorable person (under the guardian ship of jam-e-Ashraf & Sajjada Nasheen Aastana-e-Aliya Ashrafiya Hasaniya Sarkar-e-Kalan Dargah Kichhauchha Muqaddasa.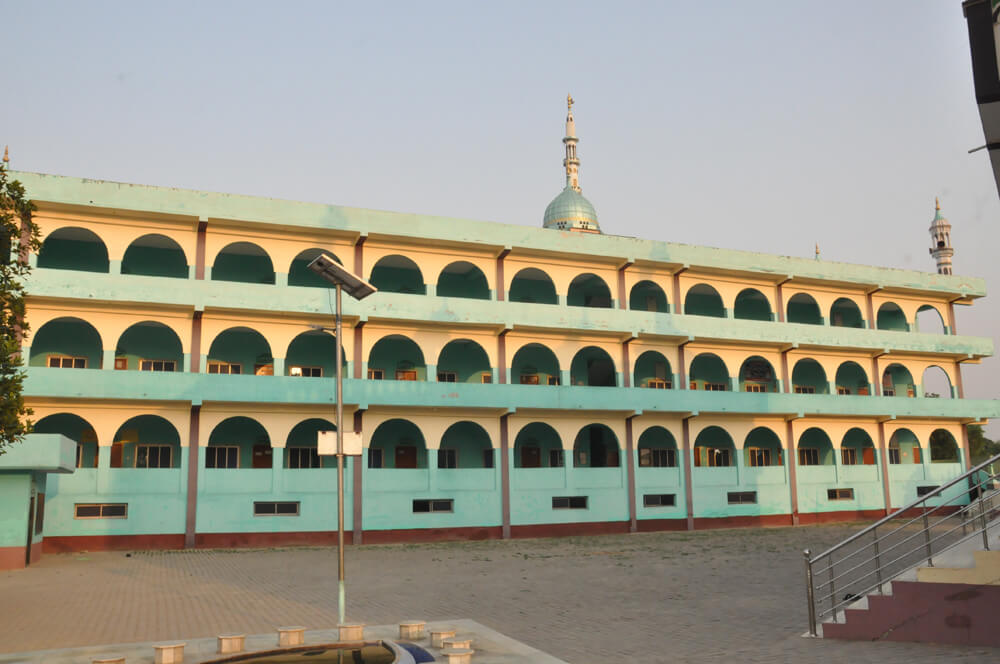 This Institution in the name of Imam Ahle Sunnat Huzoor Makhdoom-ul-Mashayekh Hazrat Allama Maulana Al-haj Al-shah Abul Masood Sayyed Muhammad Mukhtar Ashraf Ashrafi Jilani Alaihirrahmato Warrizwan (heir of Sarkar-e-Kalan) whose close followers Janab Haji Ali Hasan Khan Ashrafi Marhoom. Whose head is his elder son named Aali Janab Abul Hasan Khan Ashrafi Sahab (follower of Shaikh-e-Aazam). The guardian of the Madrasa Gazi-e-Islam Hazrat Maulana Muhammad Hashim Ashrafi Sahab (founder of Al-Jamiat-ul-Islamiya Ashraf-ul-Madaris, Gaddiyana Kanpur U.P.)
By the Grace of Allah Jamia Ali Hasan Ahle Sunnat is working under the Principle of educating & grooming the child. Within a limited span of time, it has succeeded in establishing uniqueness among others, by the prayers of elders, Among all Madaris-e-Islamiya our institution stand first. Every year in the beginning of studies , we organized Iftetaah-e-Bukhari Sharif & in annual function of Dastar Bandi we organized Khatm-e-Bukhari Sharif on a very higher ground to impure our soul in which Makhdoom-ul-Ulama Huzoor Shaikh-e-Aazam Tajdar-e-Ahle Sunnat Hazrat Allama Maulana Al-haaj Al-shah Sayyed Muhammad Izhar Ashraf Ashrafi Jilani May Allah Be Pleased with him (founder of Jaam-e-Ashraf & Sajjada Nashin Aastana-e-Aaliya Ashrafiya Hasaniya Sarkar-e-Kalan Kichhauchha Muqaddasa) would have been adderessed all the students with the hadith & issue certificates of hadith to them. And now his successor Huzoor Qaaid-e-Millat is addressing the students.
Presently in Jamia Ali Hasan Ahle Sunnat, having 575 students both locals & outsiders (boys & girls) are taking education under the well versed , co-operative & understanding male & female educators , Which are 23 in number. Besides that we are having 12 other employees who are working on their designations with all responsibilities.
There are 270 Students in Nizamiya Section, 140 Students in Hifz Section & 10 Students in Ifta Section. Beside this, we are also providing English & Computer Knowledge exclusively.
Before the entrance gate of Jamia , at the left Side , there is a two floored building.
On the top floor , there is a library named " Izhar Ashraf Library " in which there are 6000 different types of books. Readers visit here according to their timings.
And on the ground floor there is a classroom named " Madina Taalim-ul-Quran " for girls. In which , 160 girls are gaining education in two shifts at a higher level under the two experienced teachers.
In Jamia " Raza Darul Ifta " where Muftiyan-e-kiram deals with all Sharaee matters in the light of Quran & Hadith.
Inside the entrance gate of Jamia , at the left side , there is an office , in which records of income , expenditure & other miscellaneous takes place.
Besides this , there is an another Structure named " Ataa-e-Rasool Jame Masjid " which has two floors. (Its income & expenditures are maintained separately). By the grace of Allah , all expenses of sick students are bear by the management.
In order to achieve good position we conduct four examinations separately. (1)Quarterly (2) Half yearly (3) pre-finals & (4) Finals.
By the Grace of Allah we teach according to our monthly designed syllabus. Because of our teaching schedule , we don't allow students to leave institution between 07:15 am. To 01:00 pm. & from evening till 11:00 pm. Please prevent invitation on non-working hours. If someone wishes to invite us at night , it's a humble request to deliver food (Niyaz) at this institution. If anyone wishes for Quran Khwani , they are requested to keep it in Ataa-e-Rasool Jame Masjid after Name-e-Far , so that it can be attended by all.
Attendance for boys is taken daily in morning as well as evening. In the girls section too , Attendance is taken daily in every class & absentees are enquired.
On the occasion of Annual function the top three rankers from both the section (boys & girls) are awarded by Akbar Ulama we Mashayekh.
On every Thursday after Namaz-e-Isha boys are trained for Tilawat , Nizamat , Naat –o-Manqabat Khwani , Taqreer & explanation of Shara'ee matters. The students are divided into three different groups.
Every year on the occasion of Urse Sarkar-e-Kalan 9th Rajabul Murajjab different types of written & verbal competitions are held such as khutba & Qirat.
By the grace of Allah every year the students who complete Hifz-e-Quran recite the whole Quran on 27th Rajab-ul-Murajjab on the occasion of Shabe Merajunnabi Sallallahh Ta'ala Alaihi wa Aalihi Wasallam.
By the grace of Allah & prophet Muhammad (Peace Be Upon Him) the total annual expenditure of the institution is Rs. 5,00,000/- which is maintained by the contribution of Mohsineen-e-Millat. So it's humble appeal to all kindly contribute for the noble cause & make your life fulfill here & also on the day of judgment.
Note: All the students are requested to submit there admission from till 8th Shawwal. Selection will be done on the basis of test. Admission will be given on the basis of ability.